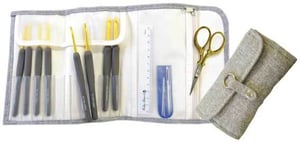 $

65.99
Get HOOKED on Etimo!! You want them, we've got them!
Here's what the manufacturer says about them;
"You are able to hook the yarn easily with smooth head and has soft cushion grip.
The ergonomic shape grip that developed independently by Tulip is very comfortable to hold and tireless.
This soft cushion grip use elastomer and its texture is very soft.
ETIMO gives you smooth crocheting and fits comfortably in your hand. "
Smooth hook tip
The finely polished hook tip provides a smooth feel to crocheting without catching on the threads.
Cushion grip
A special rubber material is used which fits gently onto the fingers, greatly reducing the load which the fingers bear.
Easy-to-grip shape
The shape of this hook was developed independently by Tulip, and is easy to hold, easy to turn, and does not slip.
The set includes;
8 hooks
High grade scissors (handle color may differ from pictures)
ruler
2 needles
Hook sizes are;
D-3/3.25 mm
E-4/3.50 mm
F-5/3.75 mm
G-6/4.00 mm
7/4.50 mm
H-8/5.00 mm
I-9/5.50 mm
J-10/6.00 mm
The case is made of wool, viscose & pvc resin & folds & closes with a snap. There is also a zippered compartment for all those small items needed for your crochet project.
FREE shipping in United States!!!!