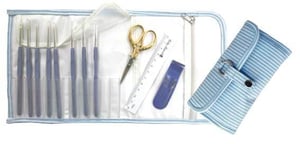 $

63.99
Get HOOKED on Etimo! You want 'em, we've got 'em...
Smooth hook tip
The finely polished hook tip provides a smooth feel to crocheting without catching on the threads.
Cushion grip
A special rubber material is used which provides fits gently onto the fingers, greatly reducing the load which the fingers bear.
Easy-to-grip shape
The shape of this hook was developed independently by Tulip, and is easy to hold, easy to turn, and does not slip.
Set includes; hook in sizes 0, 2,4,6,8,10,12,14, high grade thread scissors, ruler, & 2 needles in a carrying case made of wool, viscose & pvc resin that folds & closes with a snap. There is also a zippered compartment for all those small items needed for your crochet project.
FREE shipping in United States!!